WIN at the Super Holiday Boutique show in Concord - 12/5
We have pulled out of this event as of 11/7/10. But please go and support local, small businesses.
------------------------
I am extremely pleased to announce that Wellness International, Vicki H. (a former salon owner of 20 years experience) and I will be at this year's Super Holiday Boutique show at the Concord Hilton on Sunday, December 5, 2010 from 11 AM – 5 PM.
MARK YOUR CALENDARS
Please stay tuned for details of what our booth will entail by following this blog, me on
Facebook
and/or on
Twitter
. In the mean time, check out the 42 wellness products we have to offer and inquire about joining our team at
http://www.mywinwebpage.com/87363
. You'll be sure to have a feel good gift to give this holiday season. The holidays will be here before you know it, Folks!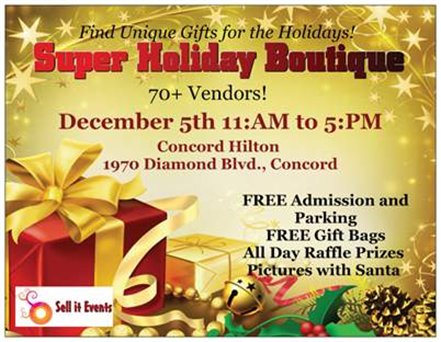 PRESS RELEASE

FOR IMMEDIATE RELEASE
Media Contact:
Hope Desroches, 925-848-5966 hope@sellitevents.com


The Super Holiday Boutique
A celebration of the Holidays with food, fun, and shopping!
---------------------------------------------------------------------------------------------

Concord, CA December 5, 2010 The first annual Super Holiday Boutique is happening in Concord, CA Sunday, December 5th from 11:00 – 5:00 p.m. at the Concord Hilton, 1970 Diamond Boulevard in Concord. This free event will offer one stop shopping for everyone on your list. Attendees will enjoy a wide variety of holiday gifts, pictures with Santa, free gift bags, food, a fun children's activity zone, and over 80 vendors.

"This is a fantastic opportunity to find unique gifts and support small businesses in the community," said sponsor Lynne Dahl with Isagenix. "This day is designed to celebrate everything wonderful about the Holidays," she continued.

This free event will also include a raffle with extravagant gifts being given out every 30 minutes. 100% of the proceeds from the raffle will be donated to charity. 250 tote bags will be given out at the start of the event. These reusable bags will include samples and promotional gifts from vendors and valuable coupons. Santa will be there for pictures with children.

The Super Holiday Boutique will be the largest event of its kind in Concord. Entrepreneur Hope Desroches of Sell it Events came up with the idea when she realized there was no one-stop shopping for the holidays that would support the community with local vendors and fund raising. "We're bringing together crafters, small business owners, direct sales professionals, massage therapists, photographers, and much more all in one place," said Desroches.

The free event is geared towards getting something sensational for everyone on your holiday shopping list and having a blast while you are at it. Come by The Super Holiday Boutique and enjoy the collaborative efforts and wonderful gift ideas. "This Celebration is the perfect place to find the perfect gift! Come out and see for yourself!"


What: Super Holiday Boutique
When: Sunday, December 5 11:am to 5:pm
Where: Concord Hilton
Food, Entertainment & Fun
Exclusive Holiday Marketplace
FREE EVENT